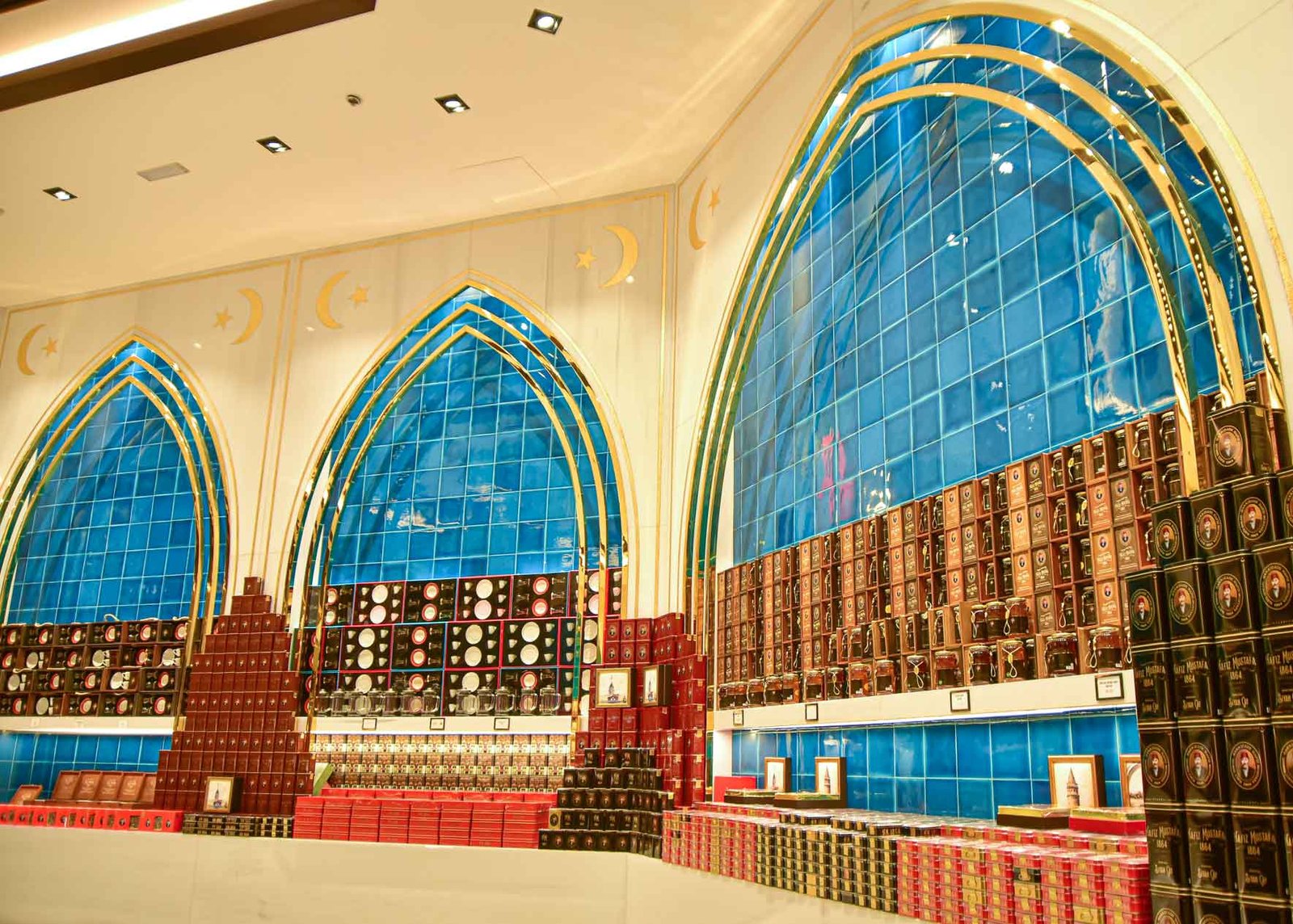 Traces of the Past in Our Architecture
When you step inside one of our Hafiz Mustafa branches, you'll immediately notice the fusion of Ottoman and Seljuk inspirations in our architecture. These two cultures have left an indelible mark on the Turkish cultural heritage, and we're proud to incorporate their beauty into our brand.
One of the most eye-catching features of our branches is our use of Iznik tiles and Turkish blue (Turquoise). These tiles are inspired by the magnificent Iznik ceramics of the Ottoman era, adding a touch of elegance to our branches. We also use traditional motifs and tile art interpretations, colored decor artistry, floral patterns and motifs, and gold, silver, copper, and mother-of-pearl embroidery to give our branches an unmistakable Turkish character.
We've blended the Seljuk and Ottoman cultures with Anatolian motifs to create a unique architectural style. We've used various stone materials in different colors and tones to create a historical expression, and some of our stores are reinforced with marble.
In Hafiz Mustafa's branch architecture, we believe color, product packaging, and accessory choices are crucial to creating a memorable effect. We use cored, emerald greens, golden yellow, tile colors, shiny colors, shiny gold, silver, and copper in our branches and packages.
We prefer accessories that carry classic, magnificent lines. In our corporate identity, we're inspired by the techniques of Kündekârî, a technique in which small pieces of wood cut in geometric shapes such as octagons, pentagons, and stars are interlocked without the help of nails and glue. The geometric figures of our branches, such as the star systems and octagons, represent the understanding of infinity and cyclicality.
When you enter one of our branches, the first thing that will catch your eye is the beautiful tiles, mosaics, and colorful embroideries. We also use dome architecture, a hallmark of Turkish architecture. We have between six and eight dome inspirations in each of our branches.
Hafiz Mustafa's branches are an impressive reflection of traditional Seljuk and Ottoman architecture, blended with Anatolian motifs and techniques such as Kündekârî. The walls of our branches are sometimes covered with tiles and made glittering, while other times, they feature fluted surfaces. At Hafiz Mustafa, we've put a lot of thought and care into the design and growth of our brand, and our architectural style reflects this commitment to excellence.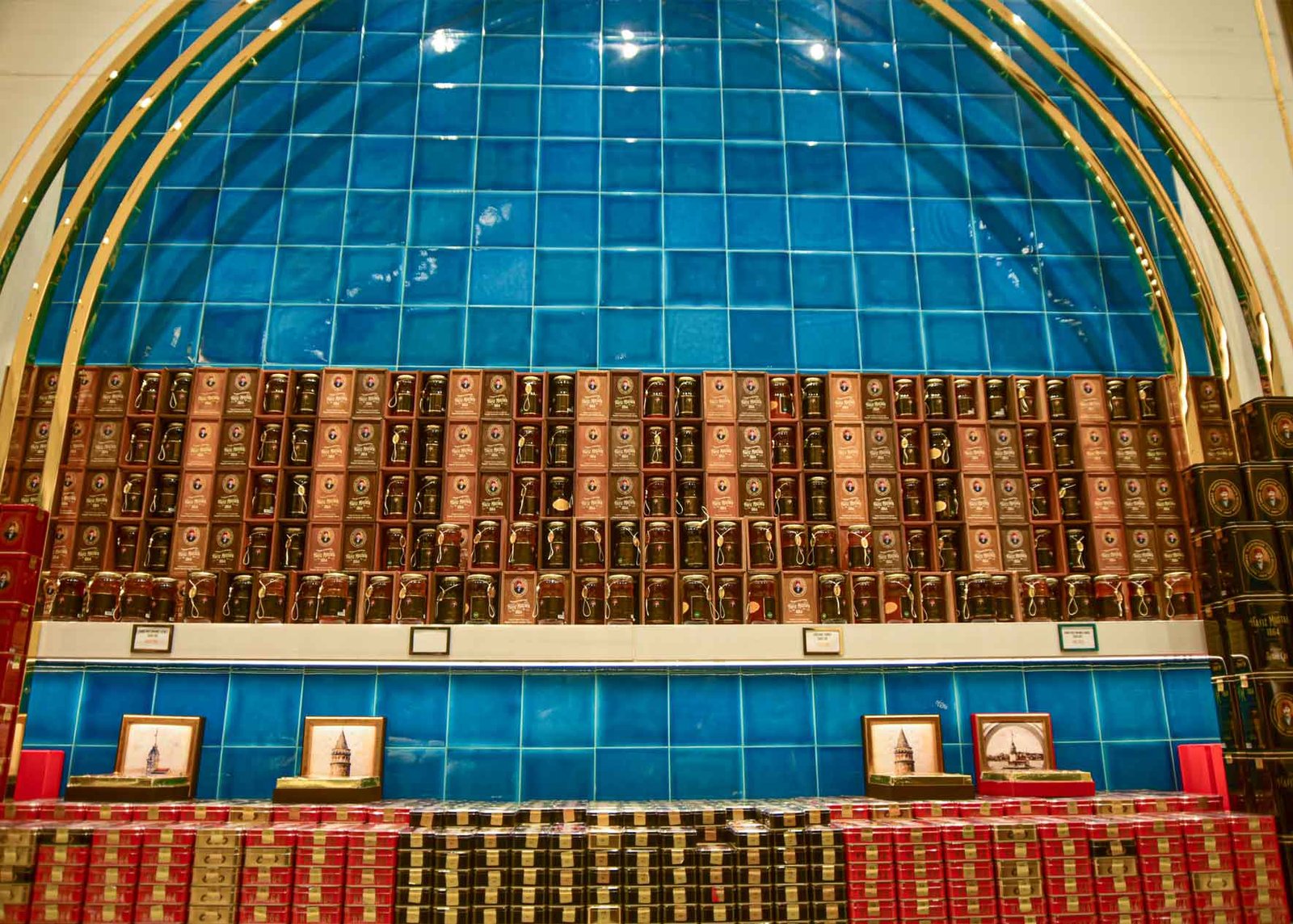 Dome Design In Our Branch
Hafiz Mustafa 1864 Dubai Mall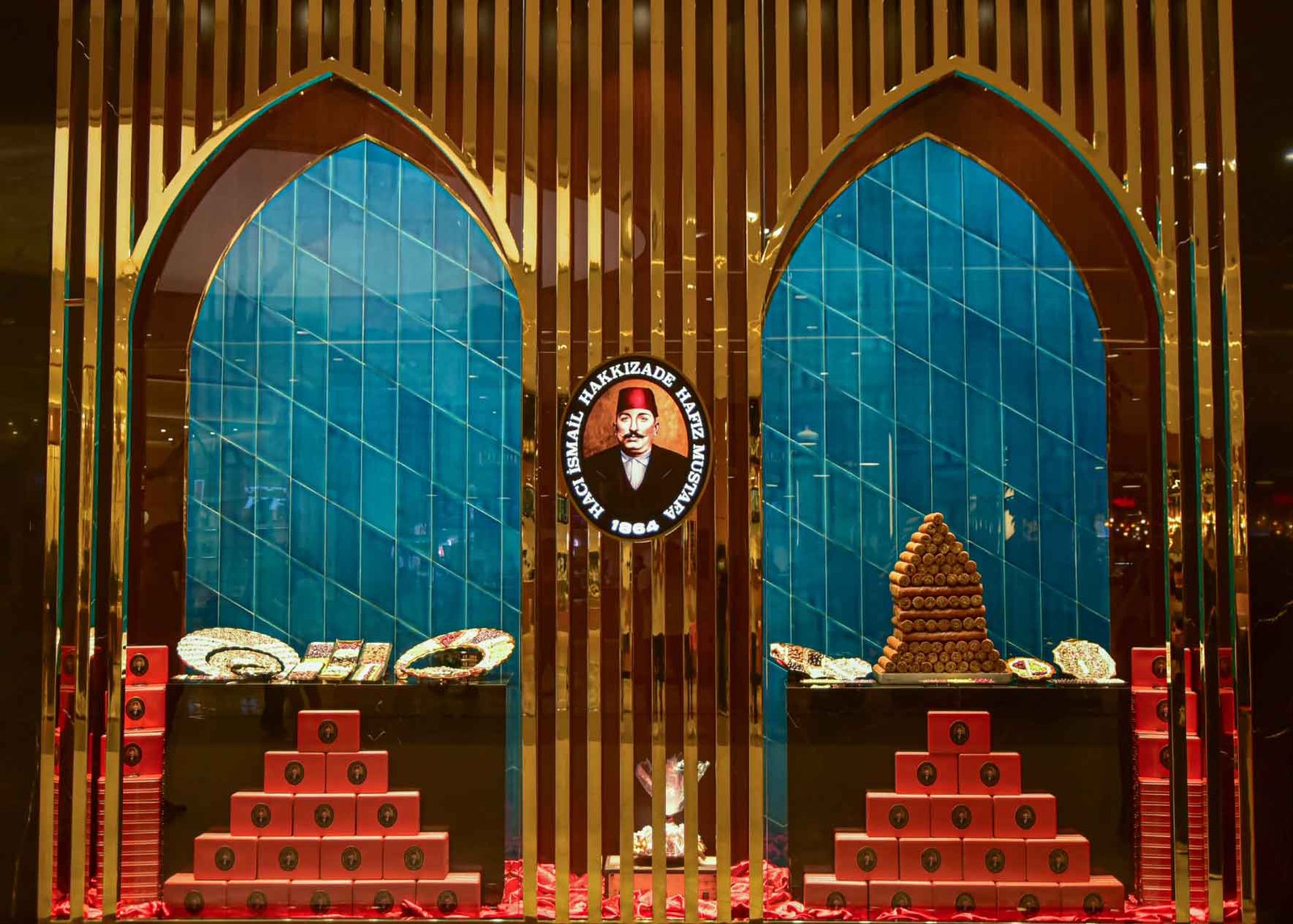 Dome Inspiration In Our Branch Showcase
Hafiz Mustafa 1864 Dubai Mall
eıght domes approach AT HAFIZ MUSTAFA
Domes are a crucial part of our architectural style and are in harmonious proportion with the interior space. The domes are in harmonious balance with the interior space and have a resemblance to historical Turkish tents. This architecture has followed a long development process in our branches in connection with the sky, sovereignty, and symbols. The domes are perfectly suited to express the idea of monotheism.
The eight domes approach we have adopted in our branches and designs is a testament to our commitment to excellence in every aspect of our business. Inspired by Ottoman and Seljuk architecture, each dome represents a unique element that we believe is essential for creating a memorable and exceptional experience for our customers.


The first dome stands for our commitment to quality. We use only the finest and freshest ingredients to create our delicious and exquisite desserts, ensuring that every bite is a treat for the senses.
The second dome represents our dedication to innovation. We are constantly exploring new flavors, textures, and designs to ensure that our desserts are always at the cutting edge of the industry.
The third dome embodies our passion for tradition. We take great pride in carrying on the legacy of our ancestors, who have been perfecting the art of dessert-making for centuries.
The fourth dome is all about creativity. Our expert chefs use their imaginations and skills to create desserts that are not only delicious but also visually stunning.
The fifth dome is dedicated to our commitment to sustainability. We strive to use environmentally friendly practices in our production and operations, ensuring our business is delicious and responsible.
The sixth dome stands for our dedication to customer satisfaction. We go above and beyond to ensure that every customer is treated with the utmost care and respect, creating an unforgettable experience every time.
The seventh dome embodies our commitment to teamwork. We believe collaboration and cooperation are essential for success, and we work together to create a positive and supportive environment for our staff and customers.
The eighth dome represents our dedication to the community. We believe that businesses are responsible for giving back to the communities they serve, and we actively support and participate in local initiatives and charities.