Atelier De Haute Confiserie
We have been in our Bahçekapı store for one-and-a-half centuries.
Going back in time and getting in touch with who we really are.
We know that taste is truly timeless… 
Hafiz Mustafa 1864… Proof of taste, proved by history…

Established in 1864, Hafiz Mustafa dates back to the reign of Emperor Sultan Abdülaziz Han in the 19th century, when Haci Ismail Hakki Bey founded Şekerci Hafiz Mustafa. Initially introduced in Istanbul's Bahçekapı district, Haci Ismail Hakki's son, Hafız Mustafa, laid the foundation for a sustainable brand embodying cultural underpinnings, producing wholesome and delectable confectionaries elegantly crafted.
Several notable historical events and figures emerged during this period, which spanned from the early 19th century to the early 20th century. Neptune, the eighth planet in our solar system, was discovered. Queen Victoria of England married Prince Albert, while renowned author Agatha Christie published her first book. Beethoven created his iconic Ninth Symphony, and Louis Pasteur made groundbreaking advancements in healthcare. This era also saw the births of influential figures such as Abraham Lincoln, Charlie Chaplin, Albert Einstein, Mahatma Gandhi, Vincent Van Gogh, and Mustafa Kemal Atatürk. Meanwhile, the Industrial Revolution was taking hold, transforming people's lives and work. In the Ottoman Empire, Abdul Hamid II ascended to the throne.
Hafız Mustafa is recognized as a pioneer in the culinary world for revolutionizing the pastry industry. From 1926 to 1938, he emerged as a leading avant-garde in pastry and dessert production, gaining recognition through 11 taste medals for introducing exceptional pastry products to the global culinary scene.
Turkish pastry products gained global popularity during that era. Hafiz Mustafa's son, Cemil Bey, carried on the family tradition with his brand "Chocolate Cemil," contributing new innovative products to the brand. The brand's taste and reliability inspired the Ottoman Palace, and Hafiz Mustafa's desserts and Turkish delights captured the rulers' attention. Hafiz Mustafa's Turkish delights were represented in the Ottoman lexicon as "rahat-u halkum," meaning "throat reliever," and played a role in the cultural underpinnings of the Ottoman Empire.
Hafız Mustafa was an esteemed entrepreneur and visionary who conducted his work with the utmost respect. He was a pioneer of his time, participating in international fairs, which were rare at that time, and receiving prestigious awards from international competitions. In 1926 and 1928, Hafız Mustafa was awarded world-renowned awards for his innovative and entrepreneurial spirit. His legacy has been carried on by the brand's representatives, who maintain the same values and principles.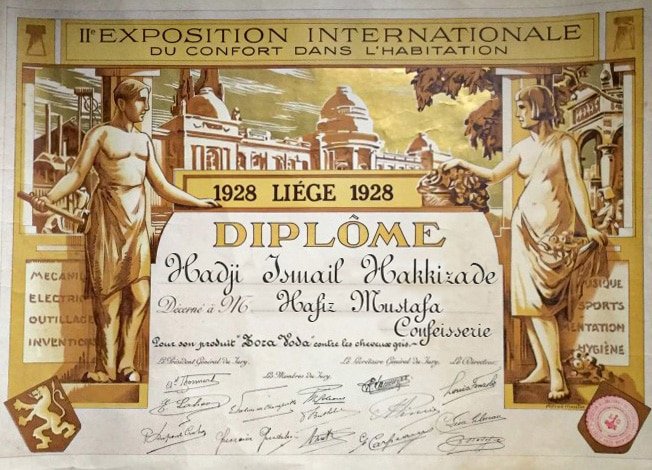 Diploma and Medals | 1928, Liege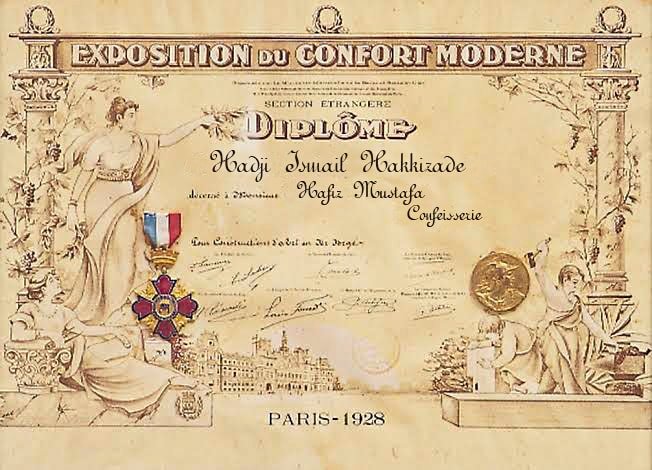 Diploma and Medals | 1928, Paris
Hafiz Mustafa was founded in 1864 in Istanbul. To put that into perspective, at the time of its founding, Queen Victoria was the queen of the United Kingdom, Abraham Lincoln was the president of the United States, and Sultan Abdulhamid Khan was the sultan of the Ottoman Empire.
As today's representatives, we have been serving in our Bahçekapı branch for a century and a half since 1864, and we continue to pass on the legacy of our ancestors and our traditional desserts from generation to generation.
We carry the traces of an era, a time, a tradition. We have been producing the most delicious desserts in the world for a century and a half by remaining faithful to that time and its memories, values, traditions, and flavors. From 1864 to today, we have witnessed the emergence of horse-drawn trams, the establishment of the first city postal service, the opening of Darü'l-Fünun-ı Osmani (the first university of the Ottoman Empire), many international conventions, the declaration of the First and Second Constitutional periods, the reigns of Sultan Abdülhamit II, Sultan Mehmet Reşat and Sultan Mehmet Vahdettin, the occupation of Istanbul and the declaration of the Republic.
As Hafız Mustafa, while maintaining our commitment to our traditional culture and values, we try to keep the traces and flavors of our tradition alive with our one-and-a-half centuries of experience. Our recipes prefer natural fruit extracts and beetroot instead of glucose syrup and artificial colorings. We offer a unique taste experience to every visitor with our wide range of desserts, from confectionery to Turkish delight, baklava, kadayif, puddings, and cakes.
Because we know that authentic flavor carries fascinating traces of history…