Satisfy Your Sweet Cravings
At Hafiz Mustafa, we pride ourselves on the quality and deliciousness of our dragees. We offer seven kinds of dragees made with organic chocolate and the finest quality nuts. Our dragees are not coated with glucose or coloring, ensuring you enjoy a healthier snack.
The outer layer of our dragees is coated with various flavors, including chocolate, caramel, cinnamon, or coffee. We use premium chocolate for the middle layer, adding a rich and decadent texture to each bite. The innermost layer is filled with fresh hazelnuts or almonds, making each dragee a mouth-watering treat.
One of our most popular dragees is the Caramel Almond Dragee. Combining sweet and nutty flavors with the smooth caramel coating creates a taste explosion in your mouth. Another favorite is the Caramel Hazelnut Dragee, which uses fresh hazelnuts coated in caramel and then covered in organic chocolate.
If you are looking for a spicy kick, try our Cinnamon Milk Hazelnut Dragee. The cinnamon adds a warm and comforting flavor, while the organic chocolate and fresh hazelnuts provide a perfect balance of texture and taste. Our Cinnamon Almond Princess Dragee is also a crowd-pleaser, combining the sweet taste of almonds with the comforting spice of cinnamon.
For coffee lovers, we offer our Coffee Dragee, which is made with organic chocolate and fresh hazelnuts and has a rich coffee flavor that is perfect for a midday snack or an after-dinner treat. For a unique taste experience, try our Gum Mastic Almond Dragee, which combines the flavors of almond and gum mastic, a resinous substance with a distinct flavor popular in Mediterranean cuisine.
Our Tiramisu Almond Dragee is a unique twist on the classic Italian dessert. The rich and creamy flavor of tiramisu is combined with the nutty taste of almonds, creating a delicious and decadent dragee.
Our dragees are a delicious treat for yourself and make an excellent gift for any occasion. Whether for a birthday, anniversary, or a thoughtful gesture, our dragees are a unique and memorable way to show someone you care. And for health-conscious people, our dragees are a guilt-free option that doesn't sacrifice taste.
 Visit us and indulge in our mouth-watering dragees. We guarantee that once you try them, you will order more.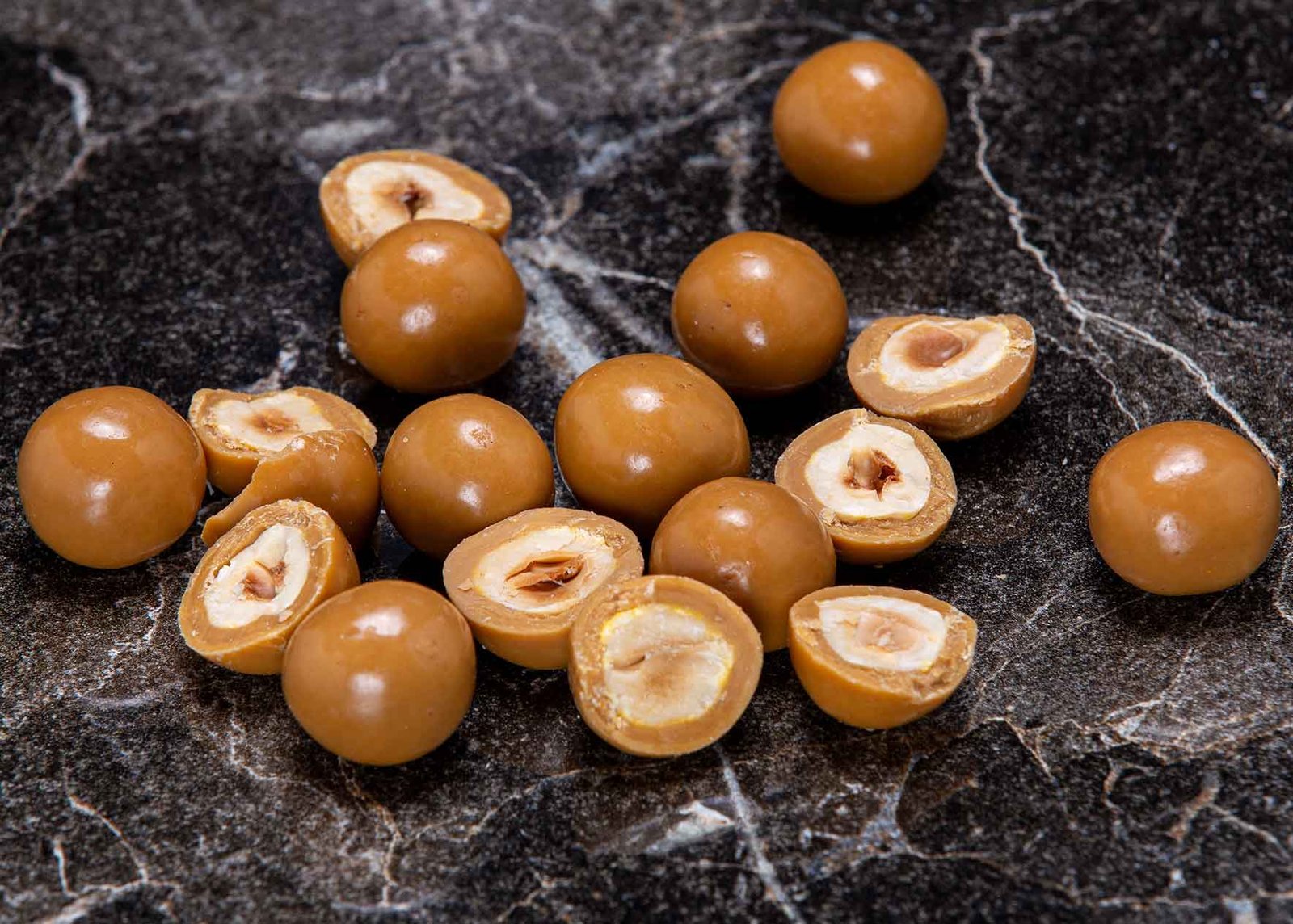 HAFIZ MUSTAFA 1864 | DRAGEE
Cinnamon Almond Princess Dragee
HAFIZ MUSTAFA 1864 | DRAGEE
In addition to being delicious and made with high-quality ingredients, Hafiz Mustafa dragees are also visually stunning. The chocolate coating on the outside is smooth and shiny, making them look almost too beautiful to eat. The different varieties of dragees also come in different colors, from the rich brown of the Caramel Hazelnut Dragee to the creamy white and brown of the Tiramisu Almond Dragee.
If you can't decide which variety to try, you can also mix and match them to create your custom blend. This is an excellent option if you want to give a personalized and unique gift or if you want to try a little bit of everything. Our staff in-store will be happy to help you create a mix that suits your taste.
Whether you're buying dragees for yourself or as a gift, they will make an impression. They come in an elegant packaging that is perfect for gifting, with a sophisticated design that reflects the quality of the product inside. And because they are made with organic chocolate and premium nuts, you can feel good about indulging in a treat that is both delicious and made with the best ingredients.
Don't RememberHafiz Mustafa dragees are also a great snack option for any time of day. Whether you need a quick pick-me-up during the workday or a sweet treat to enjoy after dinner, our dragees are a perfect choice. Their small size and easy-to-eat shape make them a convenient option for on-the-go snacking as well.
Hafiz Mustafa dragees are a delicious and beautiful option for anyone looking to treat themselves or someone else. Their high-quality ingredients, elegant packaging, and customizable options make them versatile and impressive gifts or snacks. And when you purchase them from our store, you can be confident that you are getting a product made with care and expertise.