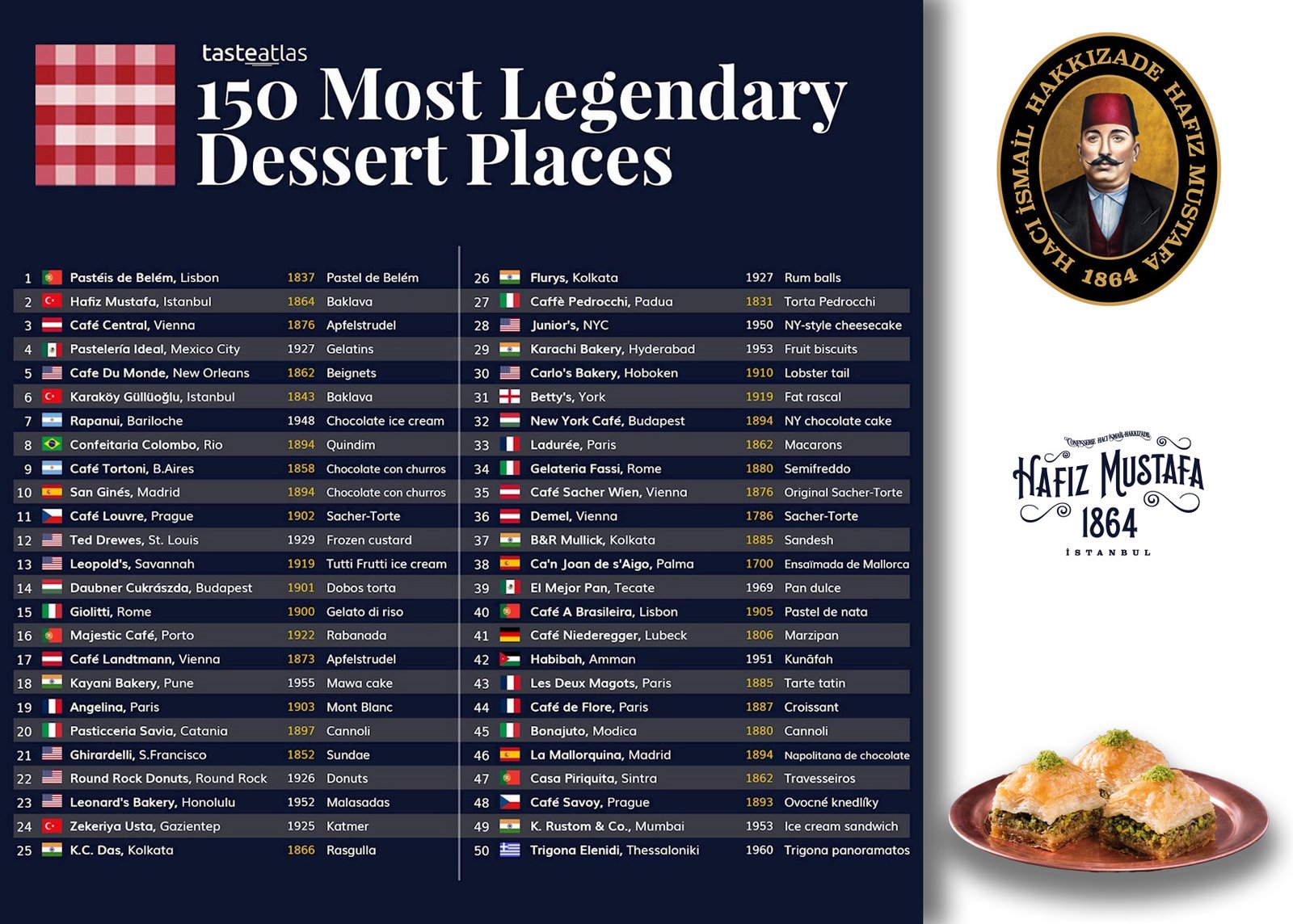 Hafiz Mustafa Shines on Taste Atlas' Global Dessert Legends List
We are thrilled to announce that Hafiz Mustafa has earned a coveted spot on TasteAtlas' prestigious list of 150 most legendary dessert places worldwide. Our beloved baklava has claimed the number two rank, showcasing our commitment to preserving time-honored dessert traditions and providing only the highest-quality baklavas to our customers.


TasteAtlas: A Culinary Encyclopedia and World Atlas of Authentic Delights
TasteAtlas, the comprehensive encyclopedia of flavors, is a global atlas spotlighting traditional dishes, indigenous ingredients, and authentic eateries. Boasting an impressive catalog of over 10,000 culinary delights and beverages, with countless more awaiting exploration, TasteAtlas documents both the widely celebrated and the forgotten tastes from cities, regions, and villages across the globe. These delectable entries are thoughtfully ranked, relying on input from discerning palates and connoisseurs worldwide.
Hafiz Mustafa 1864: A Global Baklava Icon
Hafiz Mustafa's notable ascent to second place on TasteAtlas' prestigious list underscores its enduring commitment to preserving time-honored dessert traditions. Eren Ongurlar, the CEO of Hafiz Mustafa 1864, expressed pride in the brand's baklava, a cherished symbol of Turkish culinary excellence. He emphasized that Hafiz Mustafa takes great care to bake its baklava, carefully crafted through traditional methods and faithful adherence to Hafiz Mustafa's centennial recipes.
At Hafiz Mustafa, we harmonize tradition with innovation, ensuring the highest quality while maintaining sustainable practices. Our journey is fueled by perfection, from traditional recipes to state-of-the-art quality control. As we expand globally, we aim to bring the sweet taste of our heritage to diverse palates, all while upholding the timeless values that define Hafiz Mustafa 1864.
Most Legendary Desserts List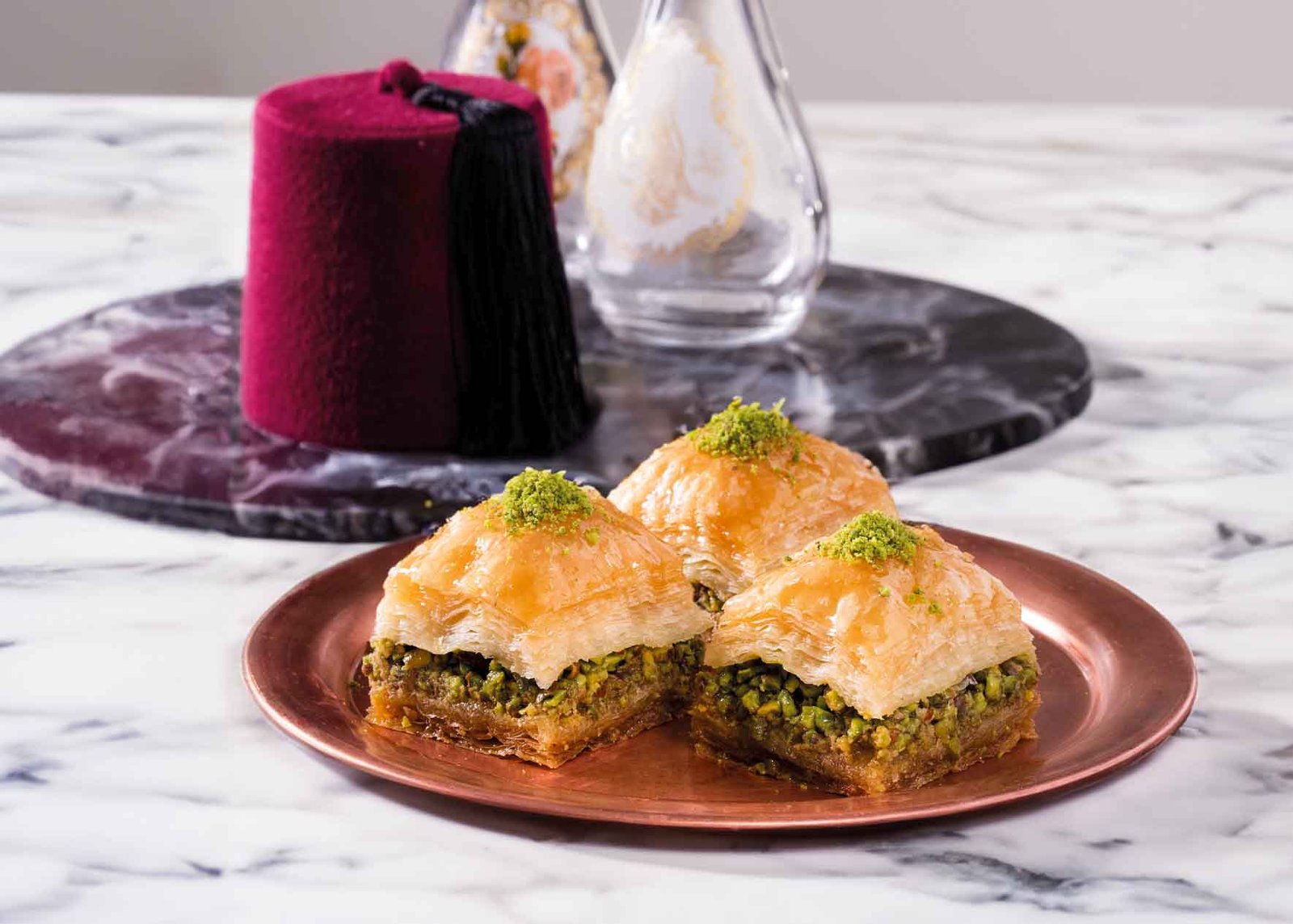 Hafiz Mustafa 1864 | Centennial Desserts
Hafiz Mustafa's Baklava: A Masterpiece of Tradition and Quality
As per TasteAtlas' review, "Hafiz Mustafa's baklava is a true masterpiece of tradition and quality." CEO Eren Ongurlar shared some inside knowledge about what makes Hafiz Mustafa's baklava stand out, saying, "At Hafiz Mustafa, we pride in our century-old recipes and traditional methods, promising every piece of baklava is expertly crafted with love and care. We use only the freshest ingredients, including premium pistachios and stone-ground flour, to bake exceptional baklavas. From hand-rolling the phyllo to adding the perfect layer of sherbet, every detail brings a true baklava experience… it's simply unrivaled in taste and quality."
Spearheading Turkish desserts forward, CEO Eren Ongurlar gratefully acknowledges this monumental honor whilst expressing their determination to carry forth the legacy of exquisite taste and heritage forged by generations of devoted confectionery artisans.