Limited Edition
HAFIZ MUSTAFA & ÇINAR LIMITED EDITION

Queen's Delight
Hafiz Mustafa 1864 is proud to announce the launch of its new limited-edition packaging, a collaboration with the prestigious carpet production house, Çınar. This exclusive collection will only be available in the UAE for a limited time.
The Limited Edition Çınar Boxes by Hafiz Mustafa 1864 represent the company's first collection co-created with an art producer. As part of this project, Çınar will feature its renowned Turkish carpet designs on Hafiz Mustafa's special boxes that house their world-renowned delicacies. Through this initiative, these two centennial companies aim to blend the ancient traditions of Turkish culture into a single project.

This exciting collaboration is a significant step forward in our efforts to connect with our current and prospective customers through shared values and experiences.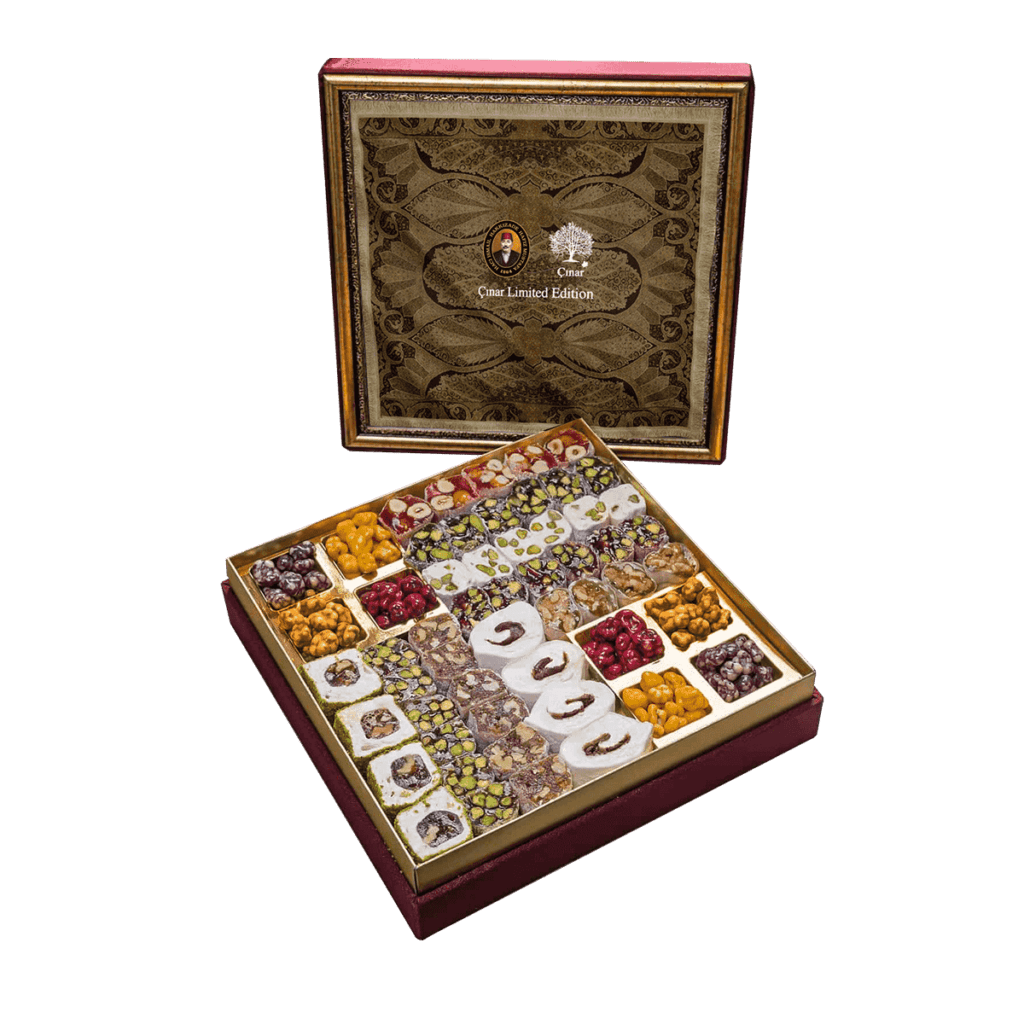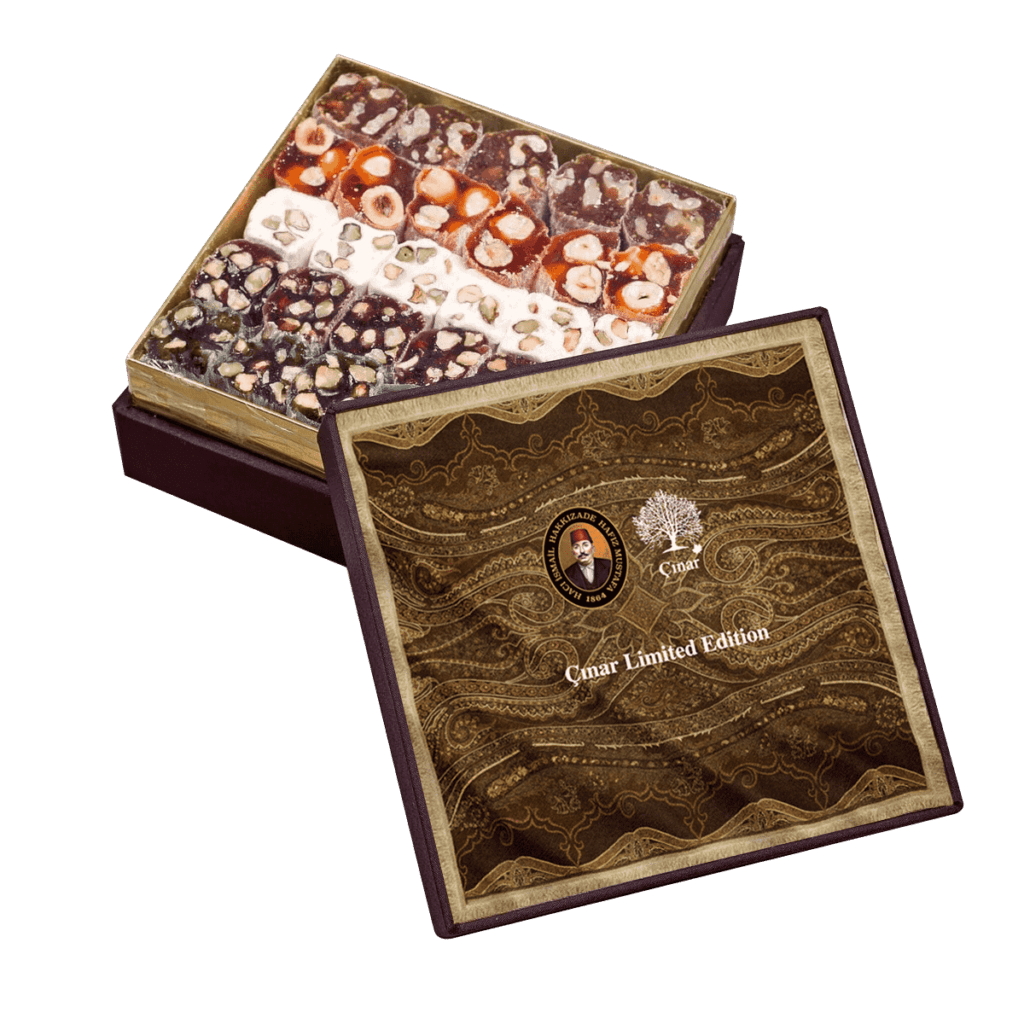 THE UNITY OF THOUSANDS OF YEARS OLD TRADITIONS…
The convergence of Turkish carpets and desserts serves as a vital means of fortifying cultural unity and solidarity. Hafiz Mustafa and Çınar share a collective commitment to preserving these values and forging a legacy that can be passed down for generations. As venerable Turkish companies, we recognize the significance of our respective cultural heritages, which have been passed down from our forebears. Our shared aspiration is to amalgamate the emotional, intellectual, gustatory, and aesthetic legacies of our past for the benefit of future generations.
Turkish carpets and desserts are intricate works of art akin to historical artifacts and archaeological inscriptions. These cultural treasures offer insights into the lives of our ancestors, providing clues about their everyday existence and revealing the riches of our cultural inheritance.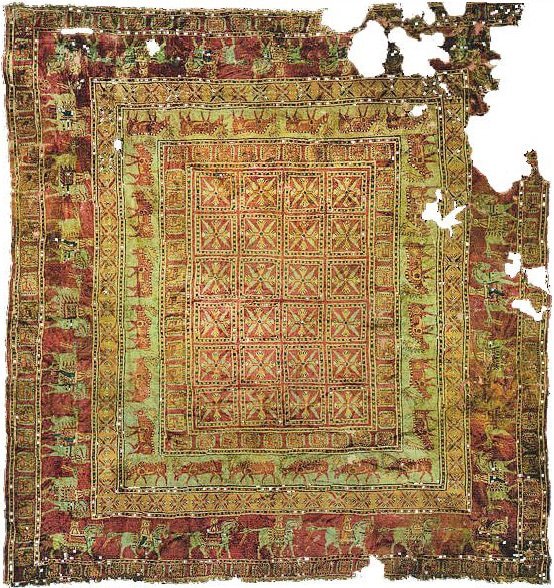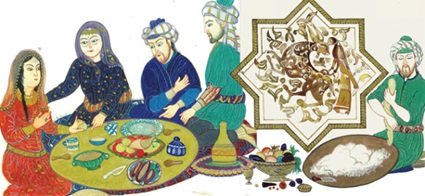 The Pazyryk Rug- 2500-year-old Turkish carpet (The oldest known carpet in the world found in Pazyryk, Altai Mountains of Central Asia)
The history of KADAYIF dates back 1000 years to the Seljuk period. It is reported from the records in the kitchen notebooks called "Beray-i Hassa" that kadayif was among the sultan's preferences.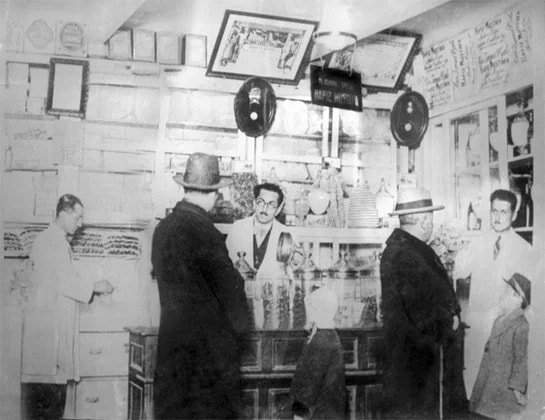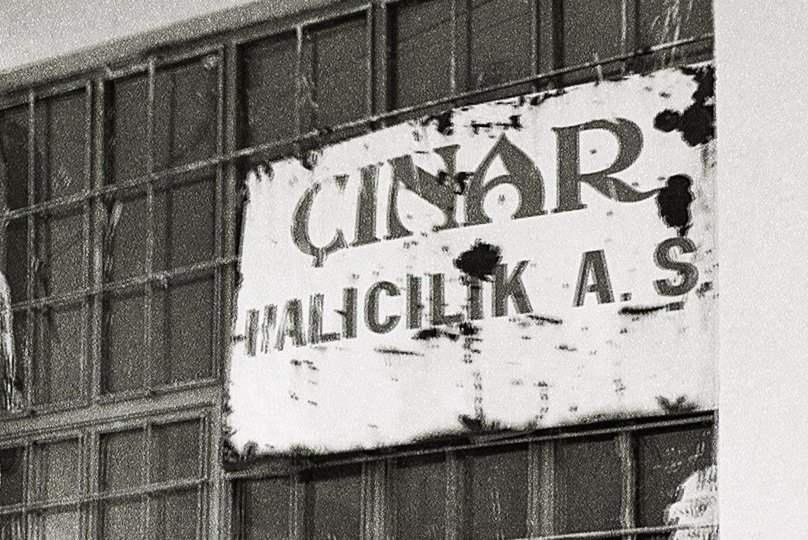 Candy maker Hafız Mustafa was founded by Hadji Ismail Hakkı Bey during the reign of Sultan Abdulaziz Khan in Bahçekapı, Istanbul in 1864, and then it was taken over by his last, Hafız Mustafa. The Hafiz Mustafa brand promotes Turkish delicacies worldwide and is one of the most influential brands in Turkey.
Çınar Halı was founded in 1935 in Kayseri by Hayrullah Çınar. Çınar's unique style, developed in a century, is the favorite of carpet lovers, collectors, and architects worldwide. Çınar carpet proudly represents Turkey and Turkish culture in the most important palaces of the world.
Çınar is the most awarded carpet manufacturer in the world.
Architectural Digest – America's Magnificent Carpet Award 2007, 2008, 2009
1993 Guinness World Record (knot density per square centimeter)
Dubai International Design Award -Index Best Product Design Award 2016, 2017