B2B Cooperation
READY FOR THE MOST DELICIOUS DESSERTS FOR YOUR CORPORATE GUESTS?

Luxury
Looking for Turkish Baklava, Turkish Kadayif, Turkish Delight, and Dragees your corporate guests will admire? 
Make an impression with Hafiz Mustafa on your clients, employees, business partners, or staff. Our corporate team is at your service, and your dedicated customer representative will assist you in selecting the perfect desserts according to your needs. The Hafiz Mustafa treasure contains dozens of secret Turkish dessert recipes with various fresh Turkish flavor combinations tested to perfection. The kind of pure attention to detail has been key to Hafiz Mustafa's unique and traditional tastes since 1864.
Special discount card for organizations
DELICIOUS SOLUTIONS FOR YOUR WORKPLACE!
You get an instant discount on every purchase with HAFIZ MUSTAFA CORPORATE CARD. Hafiz Mustafa offers a unique corporate discount – an opportunity to get discounted corporate prices on the retail prices when you order through our website. When you become a corporate member of our website with your company extension e-mail address, our system will recognize you, your membership will be included in the particular corporate customer's group, and a permanent discount will be applied. If you place an order by logging in as a member, you can see the discount you have earned in the shopping cart. Be sure to present a valid trade license or official letter to care@hm1864.ae and start enjoying Hafiz Mustafa desserts for your events and corporate guests. Talk to a Corporate Team member to learn more about the conditions needed to benefit from Hafiz Mustafa's special corporate prices.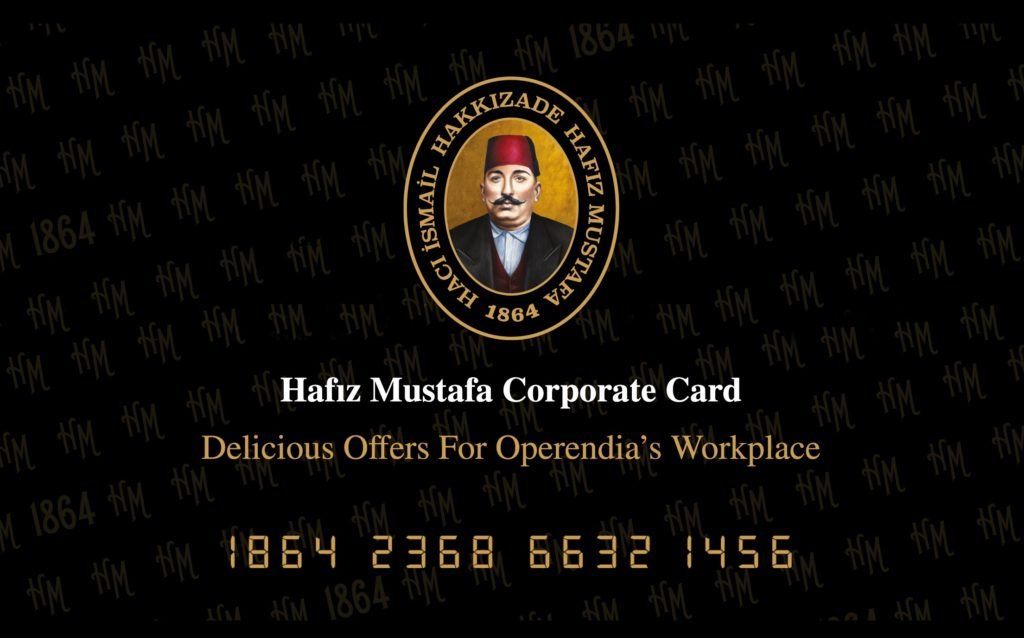 Instant discount in your cart!
Send an e-mail to care@hm1864.ae that you want to become a corporate member; let us receive your commercial license and let us know the e-mail address you wish to register; we will create your account, log in with your username and password, and you can benefit from exceptional discounts in your cart!
Whether a mouth-watering Turkish Baklava, a heart-warming serving of Turkish Kadayif, or a gourmet experience in Turkish Delights, the authentic taste of Hafiz Mustafa is as much about heritage and tradition as they are hidden in the flavor and quality of our desserts.
Our local chefs do not just work wonders with the highest-quality and organic ingredients that best express the flavors of Turkey; they also understand the history and traditions behind each Hafiz Mustafa product. Hafiz Mustafa never uses high fructose corn syrup, preservatives, or colorants. The sugar comes from natural sugar beet.
Once you are happy with Hafiz Mustafa, our master chefs can show you how to transform organic ingredients into an irresistible handcrafted Turkish dessert. You are kindly invited to our production facility in Dubai! 
Hafiz Mustafa's unique corporate offers promise delicious and lasting memories throughout heritage for your guests. Make your guests experience this diverse dessert culture's authentic roots and history.
Hafiz Mustafa can tailor to all your needs to ensure that you are offered a professional corporate service. From premium Turkish Baklavas to Turkish Delights and from Cakes to Dragees, our chefs can prepare delicious desserts for your occasion. You can also evaluate ongoing daily, weekly, and monthly Hafiz Mustafa corporate delivery options.
Taste unique and delicious desserts from award-winner Hafiz Mustafa and learn the heritage behind them.
CAN'T DECIDE?
Let us help you deliver something truly unique!